Mechanics
From OrbSWARM
Bucket Handle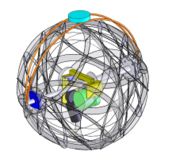 Here is a solidworks rendering of the bucket handle
Shell
Shell construction times
This info from the prototype
CNC plasma cutting took 2 people 8 hours. I hope we can reduce that to 4-6 hours. The Tech Shop is in Menlo park about 45 minutes in mild rush hour traffic, 30 minutes in the middle of the night.
unloading and cutting down 4x10 sheet- 1/2 hours
playing with data and positioning each cut- 4 x .5 hours
cutting each sheet-4 x .5 hours -on site finish work-1 hour
9 person hours to deslag, grind and buff one orb
welding the first hemisphere, which was already partially assembled (slotted together) took about 2-3 hours. Once we have good fixtures, I hope this will be less than 1 hour per hemisphere.
---
Aluminum Welding Procedures & Knowledge
Overview: Aluminum welding is trickier than stainless steel welding but presents fewer safety hazards. Standard welding safety practices and equipment are required, of course. Proper ventilation and minimal exposure to welding fumes are very important when welding aluminum. TIG welding is one of the most common ways to weld aluminum. A welder with 125-160 amp capacity is required for welding 1/8" sheet aluminum; the welder needs a 220vac/30-50amp circuit. There is more information on aluminum welding on the Aluminum Welding Page.
---

It would be nice if radio signals could go through our sphere. Fire compatible would be nice too.
Maybe 2-4.5 feet diameter.
Wind resistance vs diameter, mass? - Here is a plot of what should be the mass of the inertial element of the orb (the one propelling it) in order to be able to resist the drag force of the wind. The plot is for different orb diameters and parametric over wind speed. I would say 40 knots on the playa is quite unusual but not impossible. - Stefano Media:windgraph.jpg

Hazmatt's Notes on Hamster Balls
Possible Shell Materials
https://1000bulbs.com/category/white-acrylic-globe-lamp-covers-with-neck/
Fiberglass?
Stainless steel sphere quote from thailand ($400 24" sphere) ($1533 39" sphere + $660 shipping)
36" Spherical Power Line Marker available for $260 + shipping. Made of ABS plastic, weighs 20 lbs. or $550 for a 52 inch sphere.
Another seller of Power Line Markers
Airport Wire Marker $220 for 24 inch sphere, drop shipped from Missouri 65018, sphere weighs 7 lbs.
acrylic spheres Full acrylic 3ft sphere for $400. $290 for 2.5ft, $200 for 2ft. 40lbs, 28lbs, or 18lbs, respectively. Acrylic is brittle though :-(. They can't make full lexan/polycarbonate spheres :-(
Notes from a company that makes plastic spheres
Notes from Brani about spheres
Concept Shell
This is a concept for a sphere made of flat semi-circle cutouts. The cutouts have slots so that they can interpenatrate. They could be fabricated from laser cut acrylic, cnc router cut wood, or other materials.
[short video] avi, 11.2 MB
Drive Motor
Done: Lisa bought the following (with a wire transfer by Lee)
Here is the final information for the gear motors (1018Z-250W-24V) that I (lisa) plan to order through Alibaba:
16 motors @ $32 each: $512
UPS Shipping for 45kg: $294
Total $806
Price per motor: $50.38


I think this is what we got: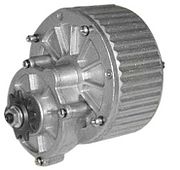 http://cn-dcmotors.en.alibaba.com/product/50268876-50059273/DC_Motors/Vehicle_Gearmotor.html
Place of Origin China
Brand Name Unite
Model Number MY1018
Power DC
Specifications:
1) Voltage: 24V, 36V
2) Wattage: 250W
3) Rotation: 410rpm
4) Torque: 8.9-13.3N.m
5) H: ≥75
---
We're looking for something like a 300 watt brushless reversible motor and speed controller.
Maybe scooter motors and controllers. Here is one with some great specs-
Quark 33 amp or 65 amp brushless controllers (Joey at 310-527-0002). The 33A controller runs forward and reverse (not too many do in the hobby market), 33 amps continuous (33a*12v=400 watts). He'll sell the 33amp controllers us for $58.27 apiece if we buy several of them, w/free shipping. Or the 65 amp ones for $131.97.
Build our own controller? We have the Girlpower to do the work ourselves and save money. Designs? Maybe from Robot Power or this book, this list...

Steve Nelson gives lots of robot motor advice
Steering Motor
We need a servo that can move the 20 lb ballast at the end of a 1 ft arm through approximately 90 degrees. That's 20 ft/lbs or so.
Here is a $40 windshield wiper class motor from a company in Portland-
http://www.amequipment.com/fhp/801-1069_226-3001.pdf

parts and websites for robot combat are a starting point but most of those systems have a human operator so no feedback is required... http://www.roboticgladiator.com/links.html
IMU Mounts
The IMU mounts are made of 1/4" stainless steel. They are TIG welded to the axle as close to the center of the sphere as possible. They are tapped and threaded. These tools were used:
Plastic IMU cover
6-32NC high carbon steel plug tap
#32 drill bit (note that standard charts tell you to use a #36 bit. Lee broke 2 taps and then Marcus volunteered a Tapping and Threading Clearance Table that suggests a #32 bit for "Stainless Steel, Steels & Iron", giving a 50% thread instead of the tighter 75% thread.)
IMU itself
4-40NC Stainless Steel, Steels & Iron
#41 drill bit (see note above)